The University of Georgia has introduced a Ph.D. program in regenerative bioscience, to be administered jointly by the Regenerative Bioscience Center and the College of Agricultural and Environmental Sciences. This pioneering effort sets UGA apart as the first institution in the state to provide a formalized doctoral program aimed at nurturing interdisciplinary research and entrepreneurial skills within this dynamic and growing field.
The new degree, along with the regenerative bioscience (RB) undergraduate major established in 2022, are part of the CAES Department of Animal and Dairy Science commitment to advancing research and education in regenerative medicine and improving health for both animals and humans.
"In our pursuit of excellence and innovation, we're constantly driven to explore new frontiers in education and research," said Francis Fluharty, animal and dairy science department head. "The recent approval of the Ph.D. program in regenerative bioscience underscores our unwavering dedication to providing our students with the opportunities they need to excel in fields that hold the promise of a better future."
Since the beginning of the COVID-19 pandemic, Georgia's life sciences industry has produced more than 52,000 distinct job postings, accounting for approximately 1.1% of all postings in the state, according to the Georgia Department of Labor. The 2022 Georgia Life Sciences Industry Trends and Impacts Report revealed a 150% increase in new job creation by bioscience companies in the state.
To meet this growing demand and prepare the next generation of leaders in regenerative medicine, the new doctorate will launch in spring 2024. The program will provide advanced interdisciplinary training opportunities for students in the biomanufacturing of cellular therapies and tissues, biomaterials for tissue engineering, gene therapy, biomedical imaging, and biomedical computation.
UGA expects to attract prospective doctoral students from its undergraduate program in regenerative medicine, whose students can transition into the Ph.D. program once they complete their bachelor's degree requirements.
"Being a graduate student is like navigating a maze of unknowns. In that first year, you're climbing a steep learning curve, and it can be intimidating. You're diving into complicated research, and it's rarely what you expect," said CAES Professor Franklin West. "By offering both undergraduate and graduate programs, our aim is to make transitioning between the two as seamless as possible, ensuring that students embark on the right path right from the beginning."
In addition to offering essential instruction in regenerative bioscience, the program also aims to prepare students for non-academic careers by providing ample opportunities for entrepreneurship and technology commercialization training in partnership with UGA's technology commercialization unit, Innovation Gateway.
"RB research has already demonstrated its profound impact on health care, contributing to the development of cutting-edge therapies, artificial organs, diagnostic technologies, and more," said Lohitash Karumbaiah, associate professor in animal and dairy science. "With Georgia's thriving biomedical industry — home to over 443 companies in the Atlanta metro area alone — this program will undoubtedly bolster the state's position as a hub for innovation and biomedical advancements."
RBC will play a key role in overseeing course instruction and providing career mentoring for graduates through workshops, lab experiences and entrepreneurial ecosystems. The center's faculty are actively engaged with organizations like the Engineering Research Center for Cell Manufacturing Technologies (CMaT) and the Marcus Center for Therapeutic Cell Characterization and Manufacturing. Student participation and outreach play a crucial role in the success of these endeavors.
"This type of training is highly relevant to our initiative and to our many industry partners, and would lead to a highly desirable workforce," said Johnna Temenoff, director of CMaT.
Boehringer Ingelheim (BI), a regular research partner with UGA, recently unveiled a substantial expansion plan for its Animal Health Global Innovation Center, including a $57 million investment to grow laboratory space and enhance research and development capabilities, which will result in the addition of 55 new skilled positions at their Athens-based facility.
"The curriculum for the regenerative bioscience Ph.D. program has a strong composition of courses that will provide the technical skills needed to be a successful scientist," said Francis Milward, head of Global Innovation at BI. "We also commend the focus placed on soft skills — successful Ph.D. graduates often lead large teams of diverse people, and knowing how to communicate, organize activities and apply critical thinking are vital skills that students will gain from this program."
The new degree is built upon the collaborative research and training infrastructure that has been cultivated over the past 19 years within RBC under the direction of Steven Stice, D.W. Brooks Distinguished Professor in CAES and GRA Eminent Scholar. Doctoral students will engage in advanced research encompassing areas such as stroke, heart disease, musculoskeletal disease, Alzheimer's disease, Parkinson's disease, traumatic brain injury and more.
RBC research innovations have also led to the formation of startup companies that work with Innovation Gateway, such as Stice's start-up Aruna Biomedical, which currently employs 35 staff professionals, with the vast majority coming ready-trained from UGA.
"With regenerative medicine projecting a growth of 100 billion — student career connections are endless. It means success for every one of us," said Stice, Regents' Entrepreneur. "Our plan isn't by accident — it's by design."
In the news Thumbnail
Image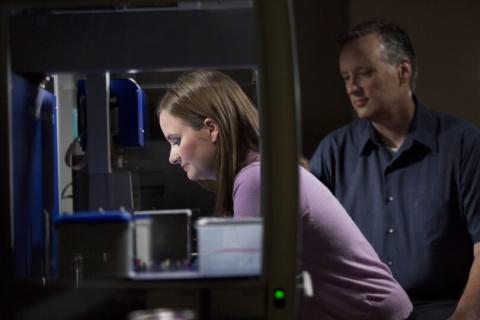 Summary Sentence
The program aims to help foster interdisciplinary research and entrepreneurial skills within a dynamic and growing field
https://news.uga.edu/uga-to-offer-states-first-ph-d-in-regenerative-bioscience/